HighMoon Havanese
We are located in California's Central Valley
Welcome to HighMoon Havanese. We have retired and are now located in Coalinga California in the San Joaquin Valley. We are the halfway mark between Los Angeles and San Francisco and very close to the Central Coast.
Our puppies from our last litter have gone onto their new homes. If you would like a puppy too please complete an application to be on our waitlist for our next litter in the Dec/Jan timeframe.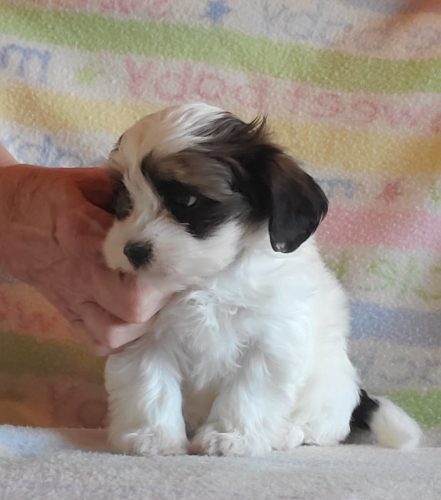 News Flash. We were surprised to learn that HighMoon Havanese was reviewed by "We Love Doodles"and ranked amongst the 6 best Havanese Breeders in California. We Love Doodles helps people learn about dogs and find a puppy. It is a good source of information on all breeds and has a very informative Newsletter.
Our website was originally created to bring you some information about the Havanese breed and to make a few dog shows brags. Now we would like to show off some of our beautiful Havanese puppies. We have been owned and loved by  our adorable Havanese for 18 years.  We saw our first Havanese at a dog show. We were told it was a show puppy and we must show it in AKC Conformation shows to it's Championship. We knew nothing about dog shows but it quickly became a family affair. We are so  grateful for the many mentors that helped us with grooming, training and showing.
Fast forward and here we are with our own Havanese puppies. Our puppies are well bred, adorable and sweet. They are everything you could ever want in a Havanese. Puppies come with a 5 year health guarantee,  an AKC Registration, a well puppy vet visit and first vaccination. We prefer you pick up your puppy at our home but in some cases we can arrange a meet up. Sorry but we do not ship puppies.
Sometimes you just got to have your own Havanese too. To be placed on our wait list please go to our Puppy Inquiry page and complete the Puppy Application. OR contact me, regarding puppies. My e-mail is
lindashavanese@gmail.com
  or Call (559) 821-3608 or call my cell (916) 717-9508.
Introducing Joyaseda's Joker at Almendares "Joker"
Born in Canada with a Show Career in Poland & Europe
We welcome this beautiful Multi Champion to our home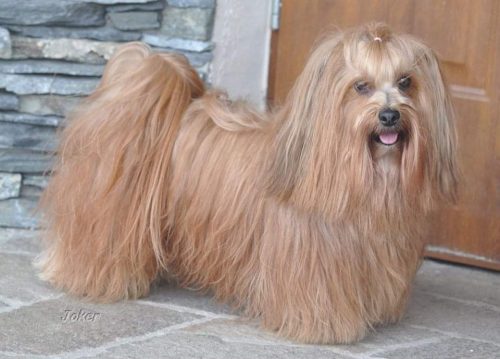 Introducing Almendares Secret Smile "Mati"
Born in Poland with a Show Career in Poland & Europe
We welcome this beautiful Multi Champion to our home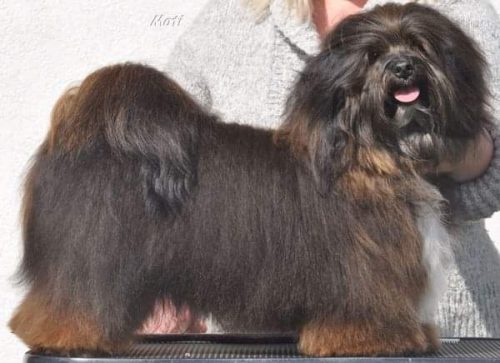 Puppy From Cuba
From Cuba with love. The Havanese breed is a native breed of Cuba.  Some people think they originated in the Mediterranean area centuries ago and were brought to Cuba by Italian Sea Captains. They were probably brought on the ships for entertainment and to trade with the wealthy plantation owners.  That would make the Havanese decendents of the Italian Bolognese and South American Poodle, creating a new member of the Bichon family.  Others believe they were brought over to Cuba by the Spaniards from the West Indies and are members of the Maltese.  The early Havanese were called the "Blanquito de la Habana" (white dog of Havana) and they were also known as the  "Havana Silk Dog."  In Cuba they lived their lives as fashionable little lap dogs for the wealthy and they were loved by the children.  They were probably some of the first performing circus dogs.  They seem to have a strong herding instinct and they may have been used for herding the chickens and ducks on the plantations.  During the time of the Great Exodus many families fled Cuba with only a few belongings and their pets. That brought some Havanese to the shores of the United States.  Dorothy Goodale from Colorado was very intrigued by the Havanese and searched for the little dogs.  She placed ads in Florida newspapers and eventually she found and purchased 11 dogs that had originally come from Cuba.  They were purchased from the Perez/Fantasio family and later additional Havanese were added from the Barba family.  Dorothy Goodale was now able to start her breeding program.  Her kennel was called the Havana Doll House. Thank you Dorothy Goodale for this wonderful breed.
The Havanese come in many colors.  And we enjoy all of the colors especially the black parti, sable parti, dark sable, silver sable, red sable, black, white and cream colors.  We now have the new beautiful red colors too.  When we have a litter of puppies it's always a pleasant surprise.  It's just like a box of chocolates, "you never know what you're going to get!" Thanks for visiting. If this is your first visit to our website, please sign our Guestbook.  To receive litter announcements, please complete our online Puppy Inquiry/Application form.